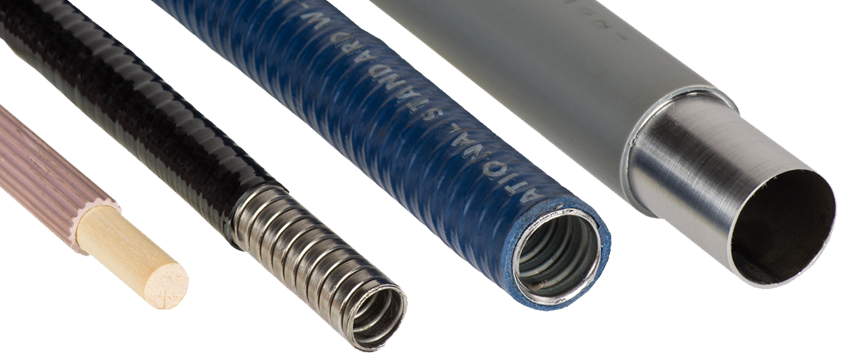 Crosshead Extrusion Coating
Crosshead Extrusion coating is the process of running a substrate through a 90 degree crosshead and extruding a coating over the substrate. This is the process used to put the plastic covering on wire and cable.
At Lakeland Plastics we have been providing crosshead extrusion coating services since our company's inception in 1962. We have more than 50 years of crosshead extrusion coating experience.
Crosshead Extrusion Coating Capabilities
Our coating line can put a waterproof, decorative or protective coating layer on whatever substrate you are looking to coat. Some of the substrates we have coated include cable, pipe (steel, aluminum and copper) wire, electrical conduit, chain, wooden dowels, rope and even other extrusions.
Crosshead Extrusion Coating Materials
Some of the thermoplastic materials that we can use for crosshead extrusion coating are flexible PVC in a variety of durometers, HDPE, LDPE and nylon. Lakeland's crosshead coated items have included swing set chains, shopping cart handles, mop and shovel handles and water proof electrical conduit.
Crosshead extrusion coating can add a warm, decorative and protective covering to whatever it is you need coated. Contact Lakeland's Sales Engineers today for a prompt quotation.
Lakeland Plastics is one of America's premier Plastic Extrusion Companies specializing in top quality, precisely engineered custom plastic extrusion for virtually any industry. In addition to our high quality custom extrusion of plastic profiles, rods and tubes, we also provide technical and support services which include, Design Engineering, Plastic Extrusion Tooling, Fabrication Services as well as 3D Printing.
For those of you familiar with our tradition, thank you for your support and continued interest in the evolution of our company. For those of you that are new to our company or are searching for the best Plastic Profile Extrusion Company for your project needs, welcome to the family and we would consider it a privilege to work with you.