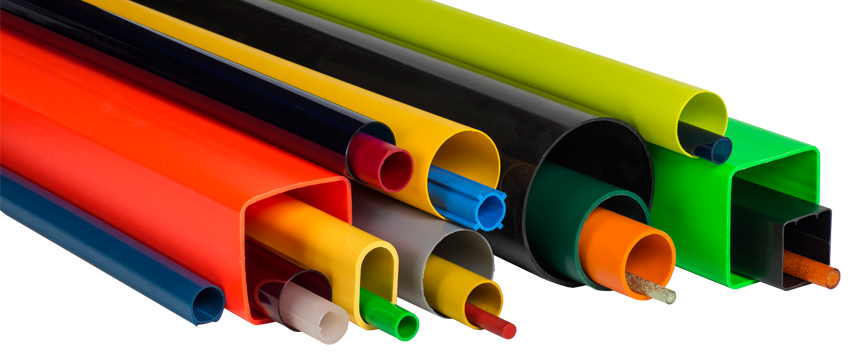 Custom Plastic Rod and Tube Extrusion
Lakeland Plastics offers Custom Plastic Rod and Tube Extrusion from a variety of thermoplastic materials in a number of unique shapes including round, square, rectangle, triangle and other multi-sided designs.
With more than 50 years of experience, Lakeland Plastics is a leading manufacturer of Rod and Tube Extrusion products including extruded plastic tubing, extruded plastic pipe, and much more. Our innovative designs, expertise, and dedication to the quality of our products and dedication to customer service and support set us apart and allow us to offer affordable, cost-effective and high-performance rod and tube extrusion products to suit virtually any application.
Your Trusted Source for Rod and Tube Extrusion Products
We have a rod or tube extrusion solution for any industry, and our dedicated team of extrusion specialists will work with you to custom-create and fabricate to your unique specifications.
Lakeland Plastics has been manufacturing custom rod and tube extrusion products, in a wide variety of sizes and configurations, since our company was established in 1962.
We have tooling available to produce most tube diameters up to 2" and have the capacity to extrude custom plastic tubing up to 6" diameter. We have the ability to produce solid plastic rods up to ¾" in diameter.
Custom tubing extrusions are not limited to simple, round shapes. Lakeland has the ability to extrude a variety of unique shapes, including ovals, squares, rectangles and triangles, as well as other multi-sided shapes, in an almost endless choice of colors and wide variety of sizes.
Our rods and tube extrusion products can be manufacturer from a wide range thermoplastic materials that we use, including PVC, acrylic, polyethylene, ABS and more. An infinite variety of colors as well as custom color matching and clear materials are also available.
In addition to the manufacturing of extruded rods and tubes, Lakeland also offers a variety of secondary operations, such as deburring, drilling, punching and other fabrication services as required – flexible tubing such as flexible PVC and polyethylene can be coiled or spooled if required.
Plus, no matter what you rod and tube extrusion needs are, you can rest assured that you'll receive the highest level of customer service and support from our knowledgeable, friendly staff that's prepared to provide you with a prompt quote today.
Lakeland Plastics is one of America's premier Plastic Extrusion Companies specializing in top quality, precisely engineered custom plastic extrusion for virtually any industry. In addition to our high quality custom extrusion of plastic profiles, rods and tubes, we also provide technical and support services which include, Design Engineering, Plastic Extrusion Tooling, Fabrication Services as well as 3D Printing.
For those of you familiar with our tradition, thank you for your support and continued interest in the evolution of our company. For those of you that are new to our company or are searching for the best Plastic Profile Extrusion Company for your project needs, welcome to the family and we would consider it a privilege to work with you.