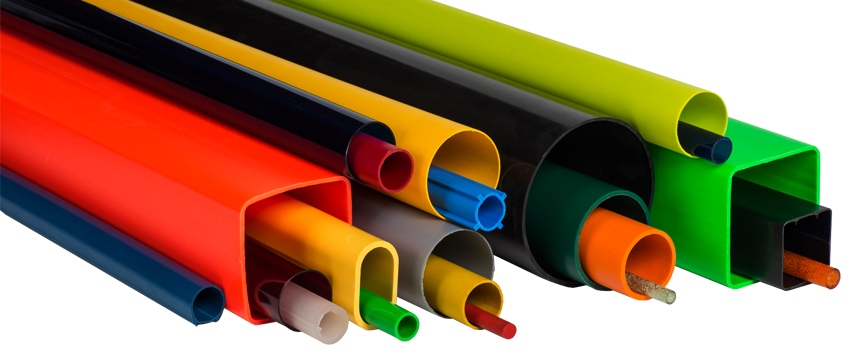 Custom Plastic Tube & Pipe Extrusion
Since 1962, Lakeland Plastics has specialized in the manufacturing custom plastic tube extrusion, , extruded plastic tubes, plastic pipe extrusion and extruded plastic pipe. Our quality products are utilized by a variety of industries including point-of-purchase, lighting, refrigeration, building and construction, automotive, industrial, consumer products, electronics, water treatment and telecom.
Best Quality Made-to-Order Plastic Tubing and Extruded Pipe
Manufacturing the best quality made-to-order plastic tubing, piping and custom pipe is as important to us as achieving the highest standards for customer care and service. At the forefront of our company are professional and dedicated people who address daily challenges with innovative solutions that meet the exacting needs of our customers while improving productivity, safety, efficiency and reducing costs.
Our exceptional abilities are largely due to our combination of highly skilled employees and our unique extrusion manufacturing processes.
America's Premier Extruder of Custom Plastic Tubing and Piping
Lakeland Plastics is one of America's premier Plastic Extrusion Companies specializing in top quality, precisely engineered custom plastic extruded pipes, tubes, piping and tubing for virtually any industry. In addition to our high quality custom extrusion of plastic pipes, rods and tubes, we also provide technical and support services which include, Design Engineering, Plastic Extrusion Tooling, Fabrication Services as well as 3D Printing.
Custom Plastic Pipe, Tube and Rod Extrusion
Lakeland Plastics offers Custom Plastic pipe, tube and rod extrusion from a variety of thermoplastic materials in a number of unique shapes including round, square, rectangle, triangle and other multi-sided designs.
With more than 50 years of experience, Lakeland Plastics is a leading manufacturer of Pipe, Tube and Rod Extrusion products including plastic tube extrusion, custom plastic tube extrusion, extruded plastic tubes, plastic pipe extrusion, extruded plastic pipe, and much more. Our innovative designs, expertise, and dedication to the quality of our products and dedication to customer service and support set us apart and allow us to offer affordable, cost-effective and high-performance rod and tube extrusion products to suit virtually any application.
Your Trusted Source for Custom Plastic Pipe and Tube Extrusion
For those of you familiar with our tradition, thank you for your support and continued interest in the evolution of our company. For those of you that are new to our company or are searching for the best Plastic Pipe and Tube Extrusion Company for your project needs, welcome to the family and we would consider it a privilege to work with you.